This is a scan of the actual KKOG program schedule which had an "effective date" of Christmas Eve, 1968.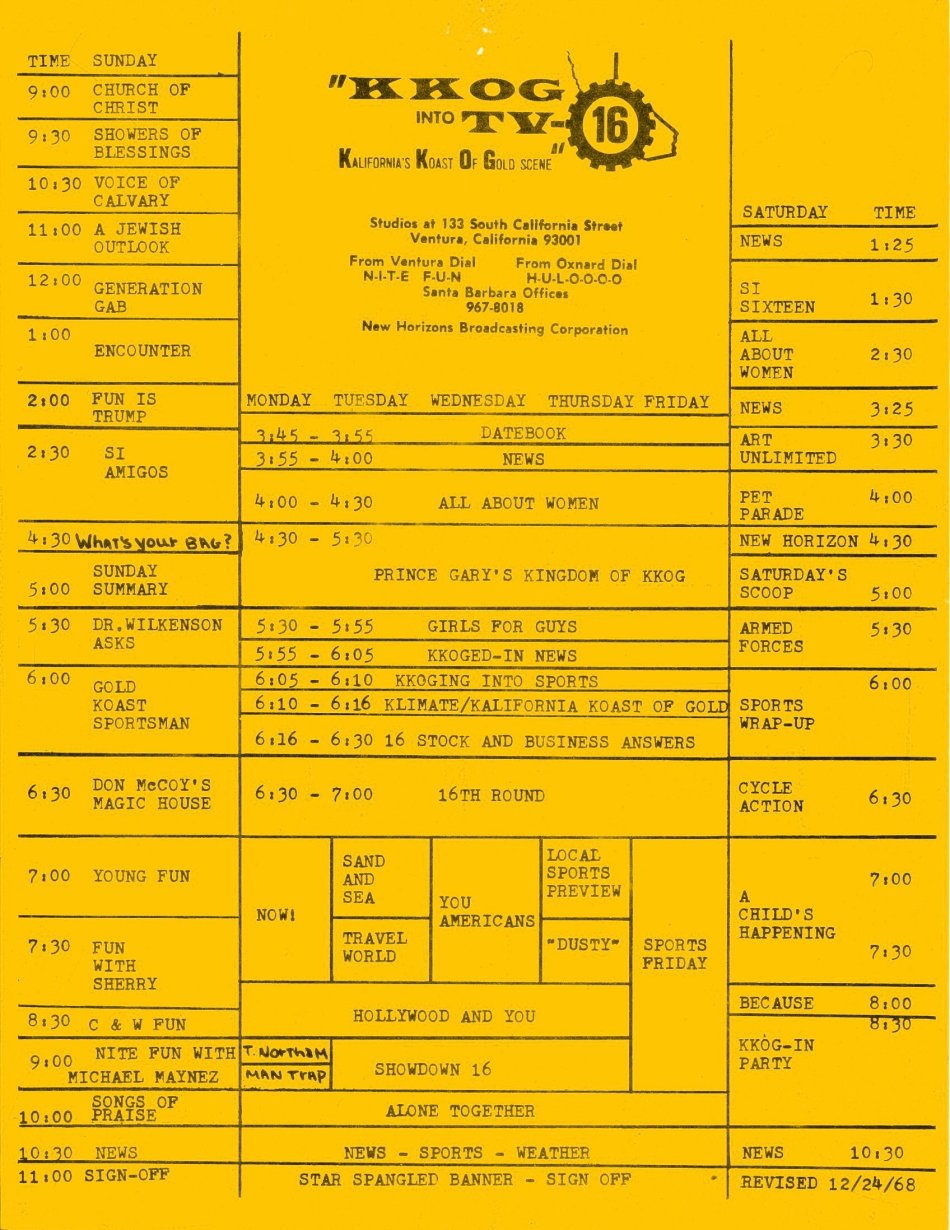 In reality, this essentially was the schedule when KKOG-TV signed on December 14, and the preceding schedule had been marked "tentative". The changes between the two were:


Actual church names had not been set for Sunday morning when the sign-on schedule was released; it simply had a block labeled "Religion" from 9:00am to 1:00pm.
"Sí Amigos" was scheduled at 2:00pm Sundays for only one hour and a debate/discussion program "Other Side of the Coin" was to follow at 3:00pm.
"Fun With Sherry" was scheduled for 7:00pm Sundays, followed by "Pat Carlin's Fun Time"* at 8:00pm.
"Art Unlimited" on Saturday afternoon was originally titled "Fun With Art".
"Cycle Action" on Saturday evening was originally titled "Two Wheeler".
"Because" was originally scheduled at 8:30pm on Saturday evening, followed by a discussion program "KKOGitation" at 9:00 and "KKOG-In" starting at 10:00pm and continuing in an open-ended time slot (there was no 10:30pm news scheduled).

* - Pat Carlin was the brother of comedian George Carlin and his program was to be a largely improvised comedy show with a live in-studio audience being involved in the humor. It did actually air once, on December 15, but contained a running gag in which Pat was becoming drunk due to surreptitiously sneaking a sip of alcohol "off-camera". Julian Myers cancelled it immediately after the telecast, saying Carlin's sense of humor offended his sensibility.


On the next page: Descriptions of some of the programs on the KKOG schedule.