KKOG-TV: An experiment in local, live television



This is the story of a man and his dream. A dream that was realized for a relatively brief moment then squashed, but which tested that man's perseverance, ingenuity, and hope.

That man was Julian Myers, and his dream was to operate a television station in the late 1960s which had the tie to local communities in the same way that many early television stations did in the 1940s and 1950s. The dream came to life ever so briefly as KKOG-TV, which operated on channel 16 in Ventura, California, a one-hour drive up the freeway from Los Angeles.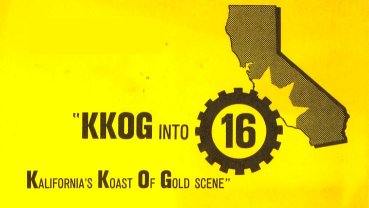 The first hint anyone in Ventura County had that Myers and his dream were coming was an article in the Star-Free Press newspaper in mid-December, 1966. In that article, Myers -- a Beverly Hills publicist -- said he had been inspired by the all-channel television receiver act to apply for a television station license in April, 1964 and had just recently received his construction permit (December 9, according to FCC records; it had taken until July, 1966 for the application to be accepted by the Commission) and intended to move to the area as the station began construction and operation. He stressed that channel 16 (which he had originally intended to call KSUN-TV, until the radio station in Bisbee, Arizona refused to relinquish those call letters) would have studios in the prominent Buenaventura Shopping Center mall and present local programs of interest to the residents of the area.

No one at the time even attempted to advise Myers that a program schedule consisting of totally live, local shows was not likely to get an audience ... especially on a UHF station in an area where all three networks and four independent VHF stations already had strong, viewable signals from Mount Wilson above Los Angeles.

It took two years to build channel 16, which finally went on the air December 14, 1968, the day a "drop dead" final extension to the construction permit was to expire. Instead of the high-rent mall, KKOG-TV converted a former paint store in downtown Ventura into studios and offices ... only to discover after the lease was signed that the building missed line-of-sight to the transmitter site on Red Mountain by 85 feet, requiring a microwave relay to be established on short notice (the lease had only been signed September 24). And, after hasty remodeling of the building interior to convert former warehouse space into two studios, a control room, and set storage, the cameras and related program generation equipment didn't arrive from RCA until just before Thanksgiving.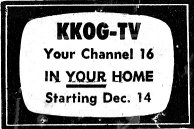 KKOG-TV finally went on the air at 2:15 on the rainy afternoon of December 14, 1968 ... and lost its video signal five minutes later. It was restored after a fifteen-minute delay, but numerous other technical glitches marred the first two hours of the debut broadcast day. Julian Myers, asked about this many years later*, said "we hadn't had a chance to adequately test the equipment, which had been installed barely one month before." He added: "If the CP hadn't been expiring that day, we probably would have waited until the first of January."

One week later, Broadcasting published a five-page special report on KKOG-TV. (We have provided the entire document in PDF form, rather than attempt to present it via graphics or transcription, because of its length. Scan courtesy of David Gleason's AmericanRadioHistory.com.) The report went into great depth on Myers' vision as well as some of his quirkiness, such as alliteration, promotion via small daily newspaper ads, and aspects of KKOG-TV's operation which might have seemed to many to be a case of a television station being licensed to an insane asylum with the patients being in charge.

On the next page: The program schedule in effect ten days after KKOG's debut.


---

* - The author remained in touch with Myers for more than 40 years after the station's demise and they discussed KKOG-TV on numerous occasions. The quotes from those conversations are reproduced throughout this site to the best of the author's recollections.